2023 PAWTY PAWLOOZA PLANNED FOR SEPTEMBER
Cincinnati – In 2022, Found House Interfaith Housing Network (IHN) Pet Support Program (PSP)
served 97 dogs, 70 cats, birds and rabbits, while connecting 100% of the pets in our care to loving
homes. Events, such as the annual Pawty Pawlooza, contribute to the ongoing success of the Pet
Support Program.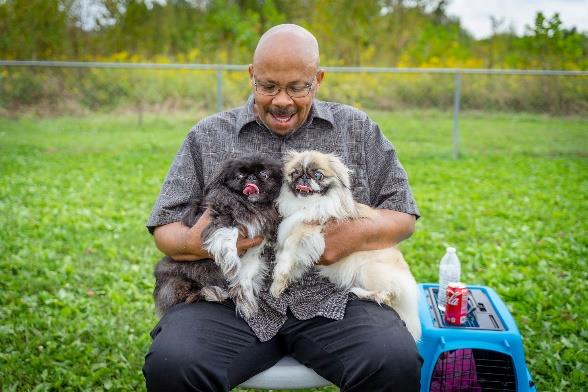 The 2023 Pawty Pawlooza, presented by the Carol Ann and
Ralph V. Haile, Jr. Foundation and sponsored by Duke Energy,
Fifth Third Bank, and HELP Heating & Cooling will take place on
Saturday, September 16 from 2-5PM at Otto Armleder Dog Park.
"The Pawty Pawlooza is an opportunity to learn more about the
work that the Found House IHN's Pet Support Program does to
keep the entire family together. This fundraiser is a crucial
element to our efforts to ensure that the hundreds of animals and
their owners we see in a year have access to temporary shelter,
veterinary care, pet rental deposits, and more! We hope to see you there to support these families," said Garrett Parsons, Service Director for the Pet Support Program.
The event will have a caricature artist, live music, food, pet vendors, and Big Ash Brewing will be selling beer. Raffle baskets from the Cincinnati Reds, Anderson Pavilion, Bark Box, and more will be available, raffle tickets are $5 or 5/$20. Meteorologist Allison Rogers from WLWT will be emceeing
for the afternoon.
Tickets can be purchased for $20 apiece. To purchase tickets or to become a sponsor, please visit:
https://www.foundhouse.org/pawty2023/.
Last year, the Pet Support Program had a support network of 79 new volunteers help provide 24,006
meals to pets in need. The program served 55 households that were referred to pet support services
to help keep pets and owners together. Additionally, the team developed the program's first fee-for
service contract with a partner shelter that pays a per diem for shelter space for pets of the families
they serve.
About
Found House IHN values the human-animal bond and advocates locally and nationally for
affordable, pet-friendly housing. The Pet Support Program provides services to families and
individuals across the community who are experiencing homelessness, or other kinds of housing
insecurity, by providing pets a safe place to go while humans access services. Once housing is
obtained, the whole family is reunited in housing.
Media Contact
Stacey Burge, President & CEO, Found House Interfaith Housing Network:
sburge@foundhouse.org or 513-471-1100