Found House IHN opens new housing site for families
CONTACT INFORMATION:
Stacey Burge, President & CEO
513-471-1100, ext. 113, sburge@foundhouse.org
RELEASE DATE: April 11, 2023
Cincinnati, OH—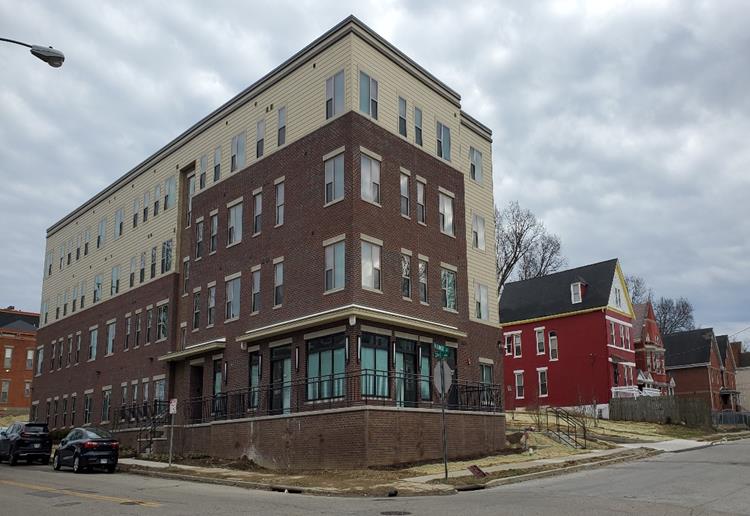 Found House IHN has helped homeless parents and children through emergency shelter and housing services for over 30 years, with an emphasis on keeping the whole family together during the crisis of housing loss. Building on that success, Found House IHN has opened its first, site-based, supportive housing project in Walnut Hills called Melrose Place.
With 26 family-sized units, Melrose Place will also provide on-site services and amenities
that ensure housing is maintained and future loss of housing is avoided. It is also a petfriendly building in keeping with Found House IHN's goal to serve the whole family, furry
members included. Applications are identified through the Coordinated Entry system of
the Hamilton County Continuum of Care and Strategies to End Homelessness.
Found House IHN was pleased to partner with The Model Group on development and
construction and will continue this partnership on property management. The Model Group believes, "…the key to our continued success as community builders is forming genuine, lasting relationships in every community in which we work." Combined with Found House IHN's mission to ensure a community where housing is accessible to all and its history of working in Walnut Hills, Melrose Place will enhance the community landscape in this vital, vibrant neighborhood.
Additional, key partners in making Melrose Place a reality include Ohio Housing Finance Agency, RiverHills Bank, Ohio Capital Corporation for Housing, Cincinnati Development Fund, City of Cincinnati, Hamilton County, The Corporation for Supportive Housing, Christ Church Cathedral, The Carol Ann and Ralph V. Haile, Jr. Foundation, Greater Cincinnati Foundation, Walnut Hills Redevelopment Foundation, Difference Makers, and many more.
A grand opening celebration will be held on Tuesday, April 18, 2023 at 9 AM beginning with a short program featuring Mayor Aftab Pureval and other community leaders, as well light refreshments and limited tours. Melrose Place is located at 835 Oak Street at the
corner of Oak and Melrose. Street parking is free, but limited and ridesharing is encouraged.